Day 2 was the day that we all realized how hard this was going to be. The first part of the trip was relatively pleasant and not all that strenuous, but when we took a break on Day 2, each one of us was wondering if we were going to make it through all six days.

Day 2 Tuesday, June 16

Dear Campy (OOO00ooooggg. I almost couldn't write that!)

The first full day on the green River. Our setup is rather complicated. Eating: food box, cooking and eating utensils box, stove & fuel canisters; Sleeping: 2 tents, 2 inflatable mattresses, 2 pads, five sleeping bags, 4 dry-bags with clothing; Toilet + TP; water bottles bags and jugs; Maps & journal; coats and rain gear; who knows. It takes about an hour to pack up and get floating.

The river is flowing at about 4 – 5 mph. We do fairly easy paddling, occasionally really pushing when we have to get into a take-out. The banks are almost solid walls of tamerisk and willow – much of the tamarisk is dead, some burned out, some being killed by an imported beetle that "only eats tamarisk." What happens when that food source runs out – will they starve to death or decide to switch to willow? Someone says, if we are lucky they may switch to eating mosquitoes.

We are seeing a reasonable amount of wildlife – quite a few great blue herons, yesterday a bald eagle flew over us twice. We found the island where he had been eating a fish – big patches of white eagle scat. Saw big horn sheep drinking from the river when Brennan and David went by, but they ran up the skree and cliffs. I searched for some time before I could see them. They blend in so completely, but when they moved they became obvious. Three adults and one really small youngster – he (or she) jumped down a small cliff then scrambled over to mama.

Even though there is a partial cloud cover, we get a lot of heat and exposure on the river. Crispin started to feel sick, so we pulled in for a break in the shade for an hour or 1½. The shade of the Juniper, for some reason, seemed to protect us from the mosquitoes. That was at an unnamed short canyon at about MP 71.5.

We entered Labyrinth Canyon today, and we pulled back a bit from our 25 mile plan – we want to do hikes down river, in Canyonlands National Park, below Mineral Bottom, and camped after about 21 miles on the Bowknot Bend at MP 66, or close to it. Finding usable camps is quite difficult – we're camping at the third one we tried, the others had standing stagnant water and gazillions of mosquitoes.

To bed by 7:30, cloudy sky so we put up the rain-flies – they do increase the internal temp!!

Good night, Campy.

- Jonathan*

Notes:
John* cooked dinner (teriyaki Chicken), Brennan cleaned up.
Camped at MP 66, 21 miles today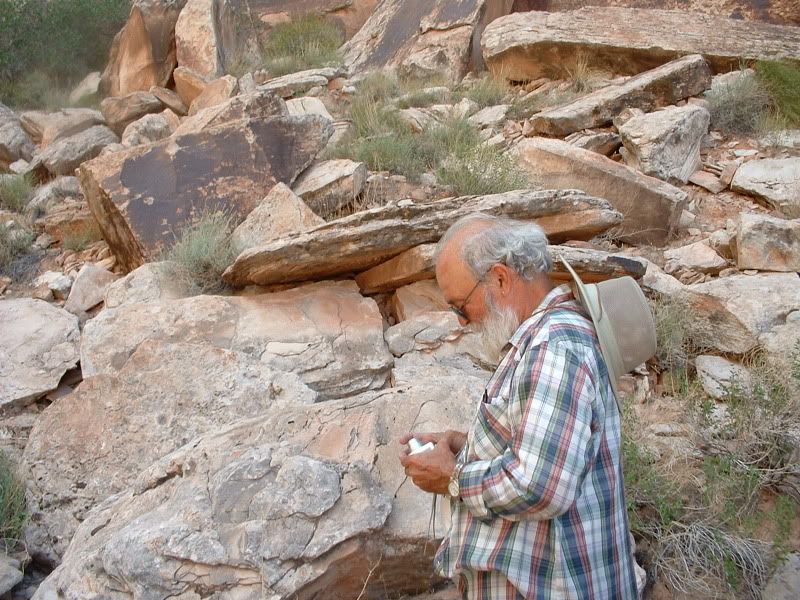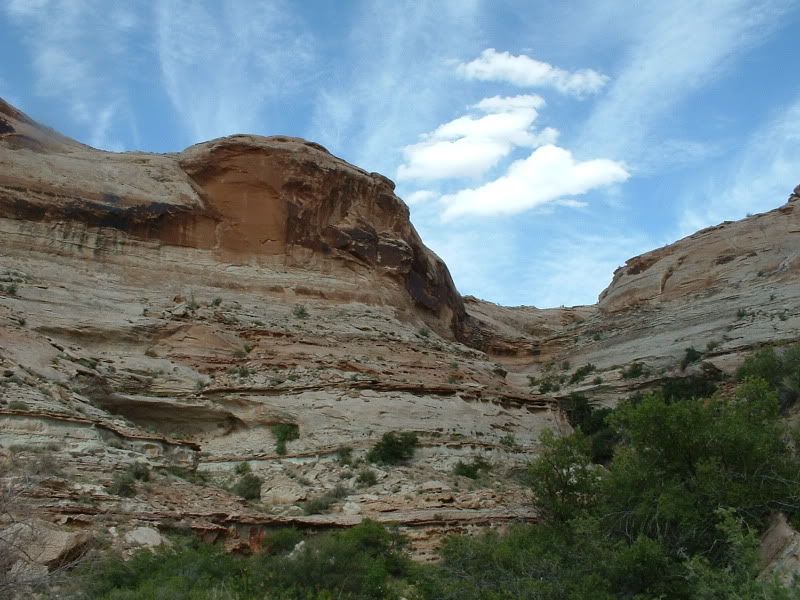 * Jonathan is Jonathan Taylor, and John is John Hall.