Day 5 - Friday, June 19
Dear Campy,
We got an early start, as planned. I didn't cry. Today was as clear as can be, hardly a cloud in the sky. This kept us safe from the dreaded winds, but it quickly got hot and then a bit hotter. Our pack-up is pretty efficient now. We've all gotten pretty expert at this river-running business. We all also smell pretty bad.
We saw a lot of herons, as usual, and also a buck mule deer, his antlers still growing.
Our trip today was easy, just 15 miles. We all fared well even though the days of paddling are wearing everyone out a bit. We've only got 9 miles to go to our pick-up point tomorrow.
We camped around noon at Jasper Canyon, which lives up to its name. There is red jasper everywhere. This spot was the site of some ancient habitation, with a granary just above the camp and a ruined watchtower on a bluff opposite. We immediately went up to look at the granary, which also had some delicious shade. You could see the fingerprints of the people who built the structure in the mud fill between the stones. After a long siesta, a couple of other groups arrived. One couple camped near us, but far enough out of sight to maintain their privacy. The family we met upriver also stopped by for a hike, but went further downstream to camp. I think we will be sharing a jet boat back to Moab tomorrow with them.
After a long break, we took a hike up Jasper Canyon to an amphitheater, then John* and I decided to hike out the other ridge to the ruin. It was a narrow path along the cliff and we needed to crawl along a part of the ledge. I think we scared everybody, it looked a lot more insane from across the canyon than it did to us. The ledge was bigger than it seemed from the other side.
Everybody is looking forward to a hot shower and a cold soda tomorrow.
Goodnight, Campy!
Love, Brennan
Notes:
Jonathan cooked, Crispin cleaned.
Camped at MP 9, 15 miles today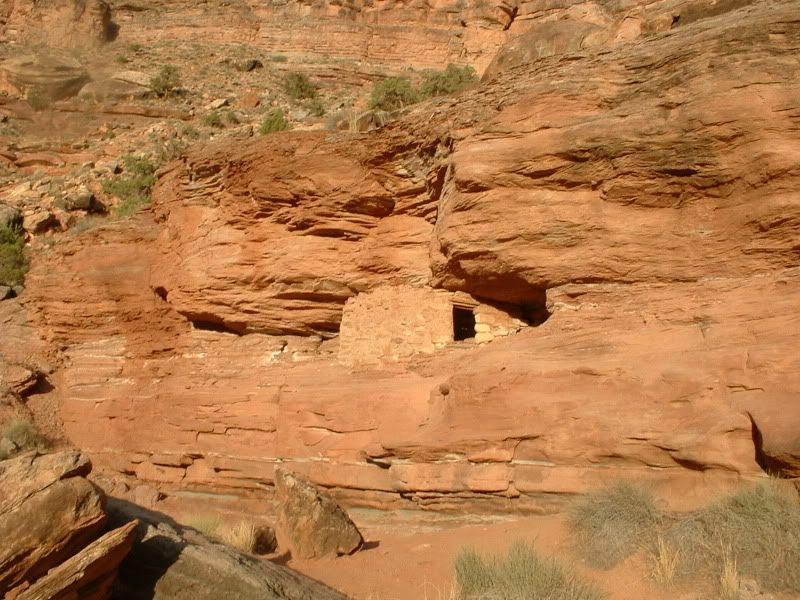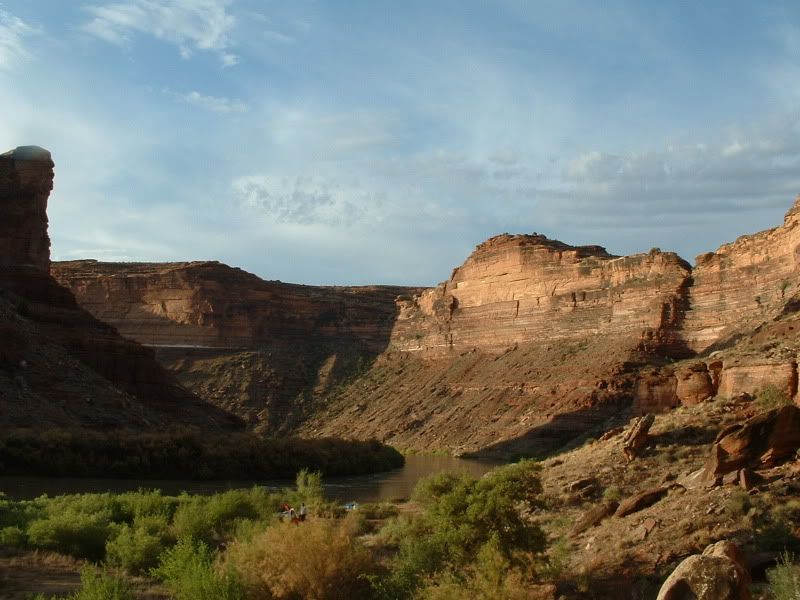 * John Hall
My turn on the journal, as the trip draws near its close.